Lash Hygiene: Do's, Don'ts, and How To's
June 01 2020 – Shantel Jackson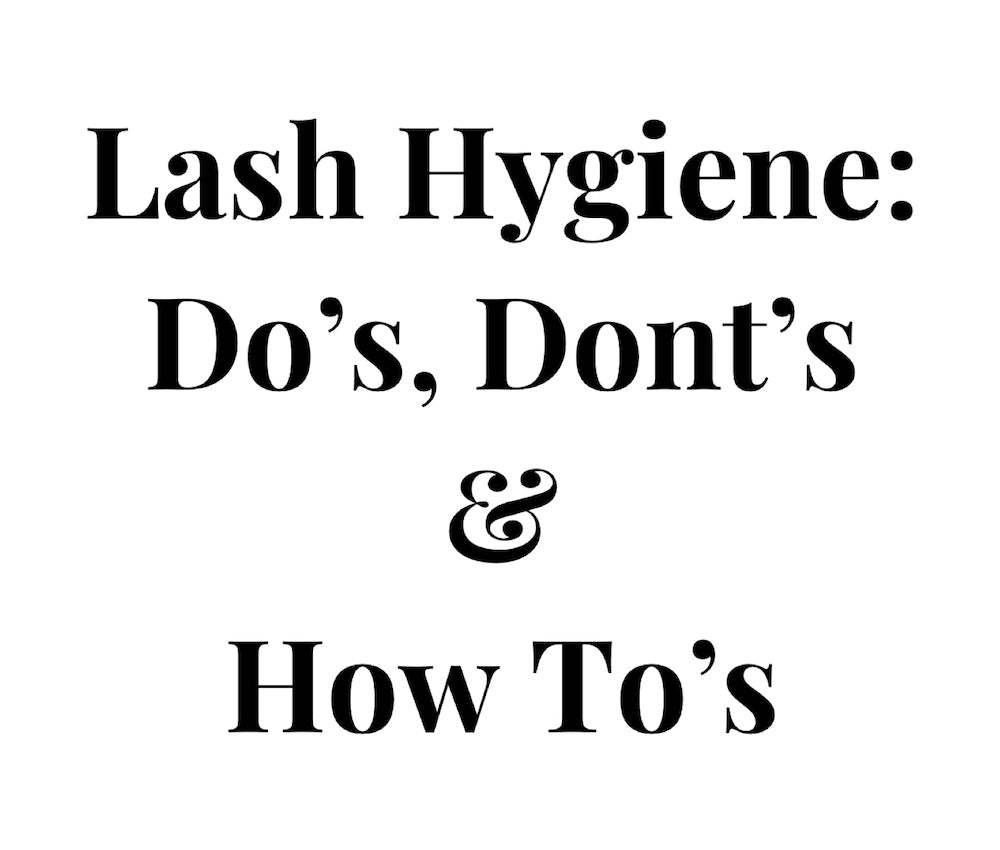 False lashes have become a staple part of "putting on your face". If you're going out dancing, sitting in a business meeting, or bustling through town these must haves are literally like stilettos for your face. They add definition and dimensions while making even the most casual looks Fanci. 
Regardless of if you are a seasoned pro or budding beginner as with almost everything there are dos don'ts and specific techniques that help make wearing false lashes safer for your eyes and easier to maintain. So, let's start this article with some of the basics.
*ALLERGIC REACTIONS OR IRRITATIONS*
False lashes are made in a range of materials. 
Synthetic lashes
are made with either a plastic fiber called PBT, or Polybutylene Terephthalate. If you are aware of an allergy to any of these substances, these are not the ones for you. They are thicker and tend to feel heavier on your eyes as well.
Human hair lashes
, as stated, are actually made from human hair. They are slightly thinner than synthetic lashes making them a lighter, cheaper alternative for your eyes.
Silk lashes
are made from silk (obviously) and are considered the most comfortable of the three listed so far. The fabric gives them the perfect shine with dark black color as well as allows them to hold a curl extremely well.
Mink lashes
are hand crafted to be the most natural looking and luxurious lashes. They are made from mink fur making them ultra soft and fine holding down the throne as the most comfortable to wear. However if you are allergic to animal fur these will not be the lashes for you. Not allergic? Try Fanci Goods Mink Lashes for a cruelty free option. 
Lash Adhesives
In addition you will want to pay close attention to the materials in the glue you choose to use. Some lash glues may contain formaldehyde and other irritants including latex that can irritate your eyes. If you have a latex allergy there are latex free options. Lash adhesives come in 2 types: Latex and Latex Free
*EYE HYGIENE RISKS*
Consider all of the things you wouldn't rewear without washing it first. Gym clothes? Panties? And for a multitude of reasons including the pure poor hygiene of it all! Well you should consider the same mindset for your lashes. Some lashes are single use and should be discarded the first time you remove them while others like Fanci Goods can last for up to 15-20 wears with nightly removal and proper lash maintenance.
Poor eye hygiene comes with a set of risks that trust me are definitely not worth the trouble. 
To prevent this, be sure to wash your hands as well as cleanse your face paying careful attention to your eyelids on a regular basis. Also, never share used lashes with a friend. You can never be sure of their hygiene habits and cross contamination puts you at serious risk for styes or conjunctivitis.
Cleaning and removing glue from lashes is a must for eye hygiene and proper lash maintenance, otherwise 
In addition, be sure to cleanse any false lashes you intend to wear again and remove any residual glue. Bacteria can and will build up in old glue making you more likely to get an infection.
*SAVING YOUR NATURAL LASHES*
Never pull, tug or rip off your lashes! The damage you cause to your natural lashes could be irreversible. You risk damaging the hair follicles causing your lashes to fall out and the effects of this trauma can cause your lashes to stop growing back.
Miss Jackson's Lash Removal Technique 
Dampen your favorite makeup wipe with water. Wrap it around your finger and massage your lash line until the glue loosens. Do a test pull and if your lashes don't remove easily continue to massage the lash line.
The goal is to loosen the glue enough to pull lashes off without resistance. 
Written By: Janice Athill